Team directory: F
Team directory: F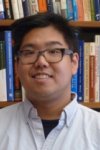 Albert Fang (Ph.D., Columbia University, 2015) is a Postdoctoral Associate at the Institution for Social and Policy Studies and the Center for the Study of American Politics. His areas of specialization are in political representation, intergroup relations and identity politics, political behavior, and political psychology. He is also interested in methodology with a focus on causal inference, experiments, and applied econometrics.
Office Location: 31 Hillhouse Avenue, Room 109
Phone: 203-436-3699
Email: kellianne.farnham@yale.edu
Sandra Lynne Fryhofer is pursuing a JD/MBA at Yale Law School and Yale School of Management. Before coming to Yale, she spent four years at the White House and U.S. Department of Health and Human Services (HHS) working on health policy and innovation efforts.