Torey McMurdo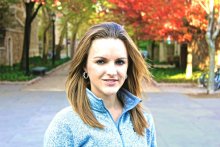 Title
Graduate Student, Political Science
ISPS
Torey McMurdo is a Ph.D. student in political science, focusing on U.S. foreign policy and international security. Her interests lie at the nexus of international relations, American politics and comparative politics. Her ISPS research examines Congressional oversight of the NSA, and whether this differs from the rest of the Intelligence Community. In addition to ISPS, McMurdo also serves as a Resident Fellow at Yale Law School's Information Society Project, and a Graduate Affiliate at Davenport College.
Prior to pursuing a Ph.D., McMurdo worked as a strategy consultant in Silicon Valley, where she helped advise senior executives of leading global companies on investment and expansion strategies in emerging markets. Previously, she worked at Stanford University, where she researched business risks and opportunities across Asia for Stanford's Graduate School of Business. She has also held positions with the U.S. Department of State's Bureau for Near Eastern Affairs and The Walt Disney Company. As an undergraduate, McMurdo spent two years researching organizational adaptation challenges facing the U.S. Intelligence Community through UCLA's Luskin School of Public Affairs.
McMurdo holds a B.A. with highest honors in political science from the University of California, Los Angeles (UCLA), where she studied under former Harvard Provost and UCLA Chancellor Al Carnesale.