2013 Margaret Farley Lecture: Sidney Callahan, The Hastings Center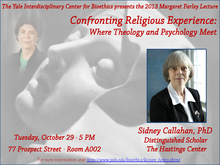 Event time:
Tuesday, October 29, 2013 -

9:00pm

through

10:00pm
Event description:
Confronting Religious Experience: Where Theology and Psychology Meet
About the Speaker: Sidney Callahan has been a Distinguished Scholar at the Hastings Center since 2003, and has been married to its co-founder, Daniel Callahan, since 1954. With Daniel, she has six sons and one daughter. Sidney has also been a Senior Fellow Center for the Study of Law and Religion Emory University since 2006 and an Advisor at the Notre Dame Center for Ethics and Culture since 1999. She has been a licensed psychologist in the state of New York since 1980, after receiving her PhD from the City of New York Graduate School. Sidney was also a tenured Professor of Psychology at Mercy College from 1980-1997. Her most recent books include Called to Happiness: Where Faith and Psychology Meet (Orbis Books, 2012), Created for Joy: A Christian View of Suffering (New York: Crossroad, 2007), and Women Who Hear Voices: The Challenge of Religious Experience (Paulist Press, 2003). She is the recipient of numerous honors and awards.