CSAP Special Event: Fareed Zakaria, "Is the American Dream Dead?"
Event time:
Wednesday, February 26, 2014 -

9:30pm

through

11:00pm
Event description: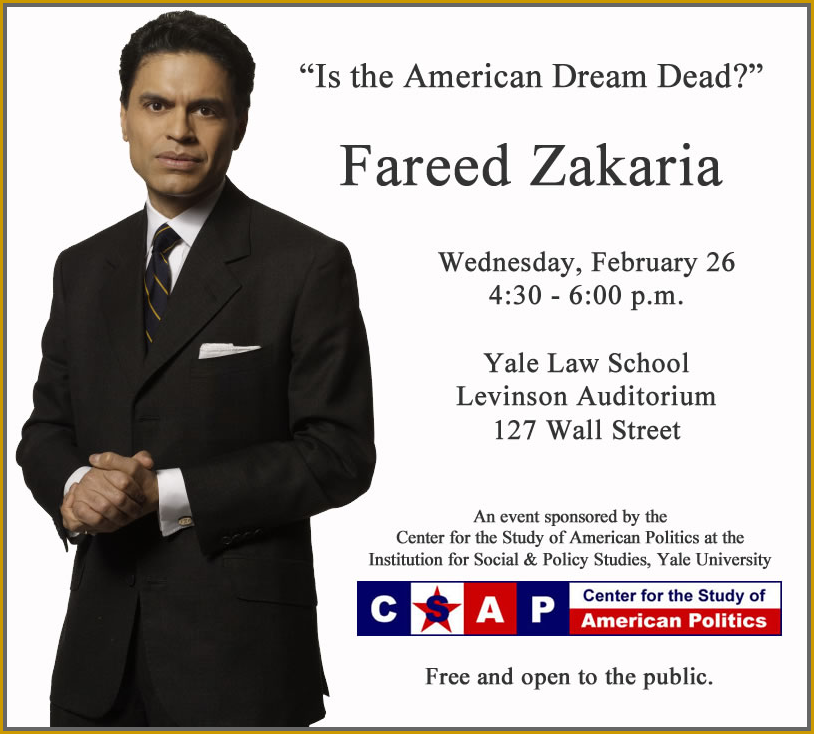 Is the American dream dead?  Median income has barely risen over the last 40 years, economic growth seems to be inexorably slowing, and our polarized political system appears unable to act.  Is America facing a future of stagnation?  Fareed Zakaria will reflect on what it will take to retool the country's economy, society, and government to perform effectively in the 21st century.  Reviewing some of the main political and economic trends of the past several decades,  Zakaria will put the current situation in the United States into historical context, discuss the key challenges the country faces, and describe how these challenges might be successfully addressed.
Fareed Zakaria is host of CNN's flagship international affairs program—Fareed Zakaria GPS, Editor at Large of TIME, a Washington Post columnist, and a New York Times bestselling author.  He was described in 1999 by Esquire Magazine as "the most influential foreign policy adviser of his generation." In 2010, Foreign Policy named him one of the top 100 global thinkers.  Since 2008, he has hosted Fareed Zakaria GPS, which airs Sundays worldwide on CNN.  Dr. Zakaria's in-depth interviews with the Dalai Lama, heads of state including Barack Obama, Manmohan Singh, King Abdullah II, Dmitry Medvedev, Moammar Gadhafi and Lula da Silva, as well as countless intellectuals, business leaders, politicians and journalists have been broadcast in more than 200 million homes around the world.  Within its first year, GPS garnered an Emmy nomination for an interview with Premier Wen Jaibao.  Dr. Zakaria was introduced as TIME Editor at Large in October 2010 after spending 10 years overseeing all of Newsweek's editions abroad.  His cover stories and columns—on subjects from globalization and emerging markets to the Middle East and America's role in the world—reach more than 25 million readers weekly.   While his columns have received many awards including a 2010 National Magazine Award, his October 2001 Newsweek cover story, "Why They Hate Us," remains the most decorated.  Before joining Newsweek in October 2000, he spent eight years as managing editor of Foreign Affairs, a post he was appointed to at only 28 years old.
The Post-American World, which is Dr. Zakaria's most recent book, was heralded in the New York Times book review as "…a relentlessly intelligent book" and The Economist called it "…a powerful guide" to facing global challenges.  Like The Post-American World, his previous book, The Future of Freedom, was a New York Times bestseller and has been translated into over 20 languages.
Born in India on January 20, 1964, Dr. Zakaria went on to receive a B.A. from Yale College and a Ph.D. from Harvard University.  He has received honorary degrees from numerous universities including Brown, the University of Miami, and Oberlin College.  He lives in New York City with his wife, son and two daughters.
This event will be live streamed at http://www.youtube.com/watch?v=uteCfwDqefo.