Data Rescue New Haven @ Yale on March 4th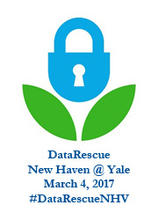 Event time:
Saturday, March 4, 2017 -

9:00am

through

4:00pm
Location:
17 Hillhouse (), Teal Classroom
New Haven

,
CT
06511
Event description:
COSPONSORED EVENT WITH THE YALE UNIVERSITY LIBRARY, YALE SCHOOL OF FORESTRY, AND YALE LAW SCHOOL'S LILLIAN GOLDMAN LAW LIBRARY
Help preserve federal government data! Join us for a one-day event from 9am-4pm on March 4 in the 17 Hillhouse, TEAL Classroom at as we locate data to archive from the federal government and find ways to archive what web crawlers cannot grab. The best part is that you don't need programming skills to participate—just the ability to use the Internet.
DataRescue New Haven @ Yale is an effort to identify, download, and preserve federal research data to ensure ongoing access by scholars, policymakers, journalists, and the public. This event is modeled on DataRescues happening around the United States. To learn more, click here.
There are many ways to contribute to a DataRescue event. We are looking for participants who have experience with any of the following: Internet browsing, subject area/disciplinary knowledge, front- or back-end web design, programming language(s), APIs or web scraping, knowledge of data formats, metadata, or social media skills. Everyone is welcome; we will find a role for you!
Please bring your own laptop to the event. Refreshments will be provided.
Funding support for this event comes from the Office of the Deputy Provost for Research.
Registration Info:
Please register for this event using the link below: