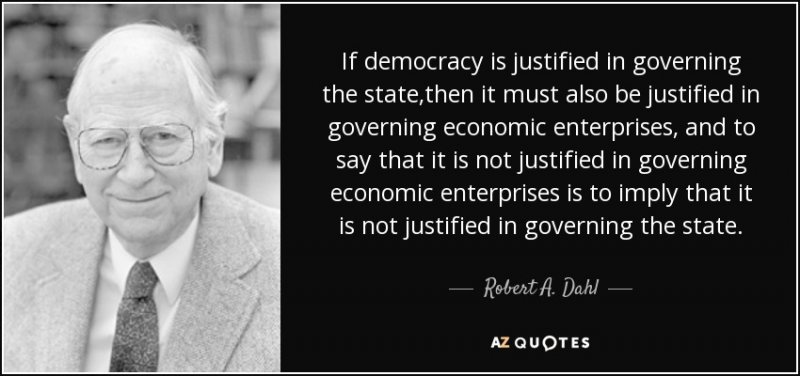 In honor of the late Yale Professor Robert Dahl, widely considered the greatest American political scientist of the Twentieth Century, the Institution for Social and Policy Studies at Yale (ISPS) is launching the Dahl Research Scholars program: A new fellowship for Yale College students committed to positively influencing public policy through research.
Beginning with the 2015-2016 academic year, selected Yale College students will engage in public policy research with leading scholars and graduate students affiliated with one of ISPS' three major programs for a year-long research fellowship and academic mentorship opportunity. In addition to a policy-relevant research assistance position, Dahl Scholars will collaborate with their host centers to complete year-long public policy research projects proposed upon application for the program.
The fellowship is open to three Yale College students, chosen in a competitive process each fall and matched with one of ISPS's centers – ISPS Health at Yale, the Center for the Study of American Politics (CSAP), the ISPS Center for the Study of Inequality (I-CSI) and the new Policy Lab.
Yale College students will be selected as Dahl Scholars based upon credentials and compatibility with the research assistantship offered and the merit of the student's research proposal.
The fellowship requires a commitment of approximately 8-10 hours each week for the academic year. A stipend is provided.
______
This program complements, but is distinct from ISPS' Director's Fellows program: Dahl Scholars will focus on positively influencing policy through research. Most will have plans to attend graduate school or join organizations conducting rigorous policy research (think tanks, NGOs).
______
Please see below for a brief description of each ISPS Center, an overview of research assistance positions offered this academic year including any necessary technical skills or completed coursework, as well as any particular emphases sought in policy project proposals:
Center for the Study of American Politics: CSAP was created to promote the work of scholars in the field of American politics. Using a broad set of methodological approaches and enjoying the advantages of deep knowledge of American politics, Americanists have made signal contributions to our understanding of political institutions and behavior. The Yale Center for the Study of American Politics is dedicated to furthering this intellectual tradition.
ISPS Health at Yale: ISPS Health at Yale unites more than three dozen scholars from across the university with a common research emphasis upon creating an environment that can strengthen health care systems, help people live healthier lives and enhance the way health care is delivered. The overarching goals of ISPS Health are to facilitate apolitical policy-relevant research at Yale, provide a hub for health policy research and education at the university, and act as a conduit for researchers to translate their research into actionable public policy at the federal, state and local levels.
ISPS Center for the Study of Inequality: Launched in February 2015 amidst the 50th anniversary of the Voting Rights Act, the ISPS Center for the Study of Inequality (I-CSI) seeks to promote high-quality, multi-disciplinary research on the relationship between economic inequality and American political life. A core intuition behind the creation of I-CSI is that governments create and oversee markets, policy creates how we prevent, produce, or combat inequality, and political actors and institutions design policies and regulations, and shape the political contexts that bear directly on inequality.
Policy Lab at Yale: This fall, ISPS brings nearly half a century of experience with student programs, and a reputation for high-quality research to launch it's newest project – The Policy Lab.  Housed at the heart of undergraduate student activity at 77 Prospect Street, The Policy Lab provides Yale students a physical space and dynamic programming to conduct data-intensive policy-related investigations, develop specialized technical skills, and engage with policymakers.  The Lab brings together Yale partners, local New Haven residents and organizations, government officials, and policy makers to create one of the first student-focused models of a university-community policy partnership in the United States.  With state-of-the-art facilities, leading faculty collaborators, and ties to key local actors and agencies, The Lab is poised to help improve local policy initiatives and make New Haven a national model of research-community partnerships.  In terms of fit, we are looking for a tech-savvy student with interest in criminal justice or urban education and the right disposition to help launch a new project would be ideal.
______
Applications now closed for 2016-17 Dahl Research Scholars Program
All materials must be submitted no later than 11:59pm on October 4, 2016. Accepted Dahl Scholars will be notified soon after.
Applications are open to Yale College students from all disciplines with demonstrated strong experience in research. Successful applicants will have:
At least three courses in the social sciences (e.g., economics, political science, sociology, psychology)
Econometrics AND/OR at least one upper-level course in the social sciences.
Evidence of research ability (paper, prior work).
Demonstrated familiarity with at last one spreadsheet/stats program, at a minimum Excel.
GPA of A- or above (greater than 3.5).
Should you have any questions, please contact Tory Bilski (victoria.bilski@yale.edu).