Team directory: W
Team directory: W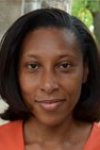 Ebonya Washington is Professor of Economics and Political Science. She received her PhD in economics at MIT in 2003. She specializes in public finance and political economy with research interests in the interplay of race, gender and political representation; the behavioral motivations and consequences of political participation and the processes through which low income Americans meet their financial needs. Her work has appeared in the Journal of Human Resources and the Quarterly Journal of Economics.
Steven I. Wilkinson is Nilekani Professor of India and South Asian Studies and Professor of Political Science and International Affairs.
Jennifer Wu is a first-year in the Department of Political Science. She is interested in political behavior, public opinion, and representation of voter preferences. Her MSc thesis examined the issue of voter suppression and preferences for franchise extension via a game theoretic framework. Prior to starting the PhD, Jen worked as a statistician in ISPS Health studying the political economy of healthcare. Jen holds a MSc Economics from University College London and a BA from the University of Pennsylvania.