ISPS Celebrates Jacob Hacker's New Book: Let Them Eat Tweets!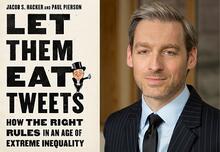 Event time:
Tuesday, September 15, 2020 -

4:00pm

through

5:00pm
Event description:
SPECIAL ISPS VIRTUAL EVENT
The Institution for Social and Policy Studies (ISPS) invites the Yale community to a special virtual event on Zoom to celebrate Jacob Hacker and Paul Pierson's new book, Let Them Eat Tweets: How the Right Rules in an Age of Extreme Inequality, a groundbreaking account of the dangerous marriage of plutocratic economic priorities and right-wing populist appeals - and how it threatens the pillars of American democracy.
"For almost twenty years respected scholars Jacob Hacker and Paul Pierson have been ahead of the curve in diagnosing how the increasing concentration of wealth in America has diminished democratic accountability and threatened the underpinnings of our constitutional democracy." – Thomas E. Mann, coauthor of the New York Times bestseller It's Even Worse Than It Looks
Please join us on Tuesday, September 15 at 4:00-5:00 PM (U.S. Eastern) for this 1-hour Zoom event featuring introductory remarks by Tamar Gendler (Yale Dean of the Faculty of Arts and Sciences) followed by a discussion and Q&A with Jacob Hacker.
This event is intended for the Yale community. Registration is required at this link: https://yale.zoom.us/meeting/register/tJYkc–ppzsqEtMMYkB1u3FPENyBWOUUhHTP.
Registration Info:
Registration is required to receive Zoom information.