"Racialized Disaster in American Political Development," Gwen Prowse, Yale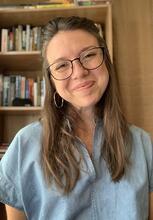 Event time:
Wednesday, December 1, 2021 -

12:00pm

through

1:15pm
Speaker:
Gwen Prowse, joint Ph.D. Candidate in Political Science and African American Studies, Yale University
Event description:
AMERICAN POLITICS & PUBLIC POLICY WORKSHOP
Abstract: Gwen will present a portion of her dissertation project, "Racialized Disaster in US Politics," which challenges the prevailing view in political science that national, federated organizations are the primary agents in mass politics by establishing subnational grassroots organizations' pivotal role in producing political transformation. Using bottom-up accounts of disaster to bring together literatures on political inequality, policy feedback, and Black politics, she argues that racialized social welfare catastrophes incite particular formations of Black-led political mobilization. This mobilization begins by what appears to be a grassroots retreat from the state and re-emerges as a movement for new state formations altogether—a dynamic political science has largely missed despite its historic recursivity.
Gwen Prowse is a joint Ph.D. candidate in political science and African American studies at Yale University. Her work examines how members of communities who are subjugated by race and class mobilize in response to social policy failures, particularly at the subnational level. Gwen is also the co-PI for the Portals Policing Project, which draws from the largest-known archive of first-hand accounts of policing to examine how police-citizen interactions shape political knowledge and political discourse in majority-Black spaces in the United States.
This workshop is open to the Yale community only. To receive announcements and invitations to attend, please subscribe at https://csap.yale.edu/american-politics-public-policy-workshop.