"Radical American Partisanship," Lilliana Mason, Johns Hopkins University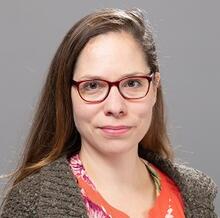 Event time:
Wednesday, February 16, 2022 -

12:00pm

through

1:15pm
Speaker:
Lilliana Mason, an SNF Agora Institute Professor of Political Science, Johns Hopkins University
Event description:
AMERICAN POLITICS & PUBLIC POLICY WORKSHOP
Abstract: Political violence is rising in the United States, with Republicans and Democrats divided along racial and ethnic lines that spurred massive bloodshed and democratic collapse earlier in the nation's history. The January 6, 2021 insurrection and the partisan responses that ensued are a vivid illustration of how deep these currents run. How did American politics become so divided that we cannot agree on how to categorize an attack on our own Capitol?
For over four years, through a series of surveys and experiments, Nathan P. Kalmoe and Lilliana Mason have been studying radicalism among ordinary American partisans. In their groundbreaking book, they draw on new evidence—as well as insights from history, psychology, and political science—to put our present partisan fractiousness in context and to explain broad patterns of political and social change. Early chapters reveal the scope of the problem, who radical partisans are, and trends over time, while later chapters identify the conditions that partisans say justify violence and test how elections, political violence, and messages from leaders inflame or pacify radical views. Kalmoe and Mason find that ordinary partisanship is far more dangerous than pundits and scholars have recognized. However, these findings are not a forecast of inevitable doom; the current climate also brings opportunities to confront democratic threats head-on and to create a more inclusive politics. (Radical American Partisanship: Mapping Violent Hostility, Its Causes, and the Consequences for Democracy, University of Chicago Press, forthcoming)
Lilliana Mason is an SNF Agora Institute Associate Professor of Political Science at Johns Hopkins University. She is author of Uncivil Agreement: How Politics Became Our Identity (University of Chicago Press). She received her PhD in political psychology from Stony Brook University and her BA in politics from Princeton University. Her research on partisan identity, partisan bias, social sorting, and American social polarization has been published in journals such as American Political Science Review, American Journal of Political Science, Public Opinion Quarterly, and Political Behavior, and featured in media outlets including the New York Times, the Washington Post, CNN, and National Public Radio.
This workshop is open to the Yale community only. To receive announcements, Zoom link information, and invitations to attend, please subscribe at https://csap.yale.edu/american-politics-public-policy-workshop.