"White Christian Nationalism and the Mid-Term Elections," Hosted by the Yale Sociology Department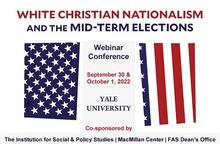 Event time:
Friday, September 30, 2022 at 9:00am

through

Saturday, October 1, 2022 at 12:00pm
Event description:
ISPS COSPONSORED WEBINAR CONFERENCE EVENT
What is the relationship between Christian Nationalism and other ideologies? How is the Christian Nationalist movement organized? What role will it play in the mid-term elections this November? How big a threat is it to American democracy? How does it compare to kindred movements in other parts of the world? This conference brings together scholars and journalists to discuss these and other issues.
Yale Sociology welcomes you to join us for our upcoming conference, "White Christian Nationalism and the Midterm Elections." This is a 2-day conference which will be taking place at the Humanities Quadrangle, (HQ), located at 320 York Street on Friday, September 30, 2022 from 9AM-5PM in Room HQ276; and on Saturday, October 1, 2022 from 8:30AM-12PM in Room L02.  The conference will be simultaneously live streamed via Zoom.
LINK HERE to register to watch the conference and type your questions via Zoom.
This event is being hosted by Philip Gorski, Professor and Chair of the Department of Sociology, with generous support from the Institution for Social & Policy Studies, the MacMillan Center, and the Faculty of Arts and Sciences (FAS) Dean's Office at Yale University.