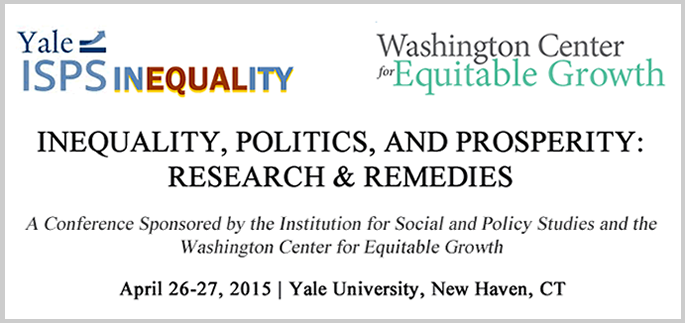 GUEST TRAVEL INFORMATION
As a guest attendee at this event, the costs of your travel and lodging will be covered by the Yale Institution for Social and Policy Studies with support from the Washington Center for Equitable Growth.  Please complete the ONLINE GUEST TRAVEL FORM by Friday, March 27th to confirm your participation, guarantee hotel reservations, and provide other important logistical information for the conference.  We look forward to hosting you!
If you have questions about travel and/or lodging for this conference, please contact Pamela Greene by email or by phone at 203-432-3052.
VENUE
The conference will be held on the Yale University campus at the Institution for Social and Policy Studies (ISPS) located at 77 Prospect Street in New Haven, Connecticut.
SCHEDULE
The conference begins with a dinner and speaker on Sunday evening, April 26 beginning at 6:30 p.m. in a private room at The Study at Yale Hotel where guests will be lodged.  Senator Chris Murphy (D-CT) has been invited to address the gathering.  On Monday, April 27, the group will convene with Opening Remarks at 9:00 a.m. and adjourn at 5:30 p.m.  LINK TO PRELIMINARY SCHEDULE
LODGING
Lodging for this conference has been reserved at The Study at Yale Hotel on the evenings of Sunday, April 26 and Monday, April 27.  To confirm your lodging, please complete the ONLINE GUEST TRAVEL FORM by Friday, March 27th.
The Study at Yale is located at 1157 Chapel Street in downtown New Haven near the Yale campus.  For more information about the hotel facilities, please visit their website at http://www.studyhotels.com/.
ISPS will be billed directly for all room and parking charges.  Please plan to pay any other incidental expenses at the time of check-out and submit the original, itemized receipt for any charges that are reimbursable under Yale travel policy.  (Please see the Yale travel guide below.)
If you need to make changes to your hotel reservations, please contact Pam Greene by email or at 203-432-3052 as soon as possible to avoid penalties.
TRAVEL REIMBURSEMENT
Travel expenses (transportation and meals en route) will be reimbursed based on the submission of actual receipts.  Receipts should include date, description of service, total amount, proof of payment, and name of traveler especially for airline/train tickets and car rentals.  (Please note: An itemized restaurant receipt should accompany the separate payment receipt when purchasing meals with a credit card.)
Please save all original, itemized receipts to submit with the ISPS Travel Expense Form.  This form is offered for your convenience in recording travel expenses and providing important personal information required for payment.  Please submit your reimbursement request within 10 days after completing your trip.
A GUIDE FOR TRAVEL TO YALE
AIR TRAVEL:
Yale will reimburse for economy class air travel only, and we encourage you to make your flight reservations early in order to obtain the best fares.
New Haven is serviced by the Tweed/New Haven Airport which is a convenient 15-minute taxi ride to the Yale campus and has daily flights to/from Philadelphia on US Airways.  Other alternatives are Hartford/Bradley International Airport (approx. 1-hour driving time to Yale), or one of the New York City airports (La Guardia or JFK approx. 2.5 hours driving time).
CONNECTING GROUND TRANSPORTATION:
To arrange connecting ground transportation from Bradley Airport near Hartford or from the New York City airports (JFK and LGA), please contact Pam Greene via email and forward your travel itinerary including flight information.  Also provide a mobile/cell phone number where a driver may reach you if necessary.
If you are flying into New Haven Tweed Airport or taking a train into New Haven Union Station, a queue of taxis will be available immediately outside the terminal.
TRAIN TRAVEL:
Amtrak (1-800-USA-RAIL / 1-800-872-7245 or www.amtrak.com) is available along the northeast corridor from Boston, New York (Penn Station), or Washington, DC – and points in between – to Union Station in New Haven.  Note: if you purchase Amtrak tickets, Yale will reimburse for business class travel, but will not reimburse for upgrades to first class.
Metro-North Railroad provides more frequent commuter train service between Grand Central Terminal in New York City and Union Station in New Haven.  Call Metro-North Railroad at 1-800-638-7646 or visit their web site at http://as0.mta.info/mnr/schedules/sched_form.cfm for times and fares.
PERSONAL AUTOMOBILE TRAVEL:
If you are driving your own vehicle to New Haven, car mileage will be reimbursed at a rate of $.575 per mile.  Parking will be available at The Study Hotel and charges will be directly billed to our Yale account.
CAR RENTAL:
Travelers should rent the most economical (compact or midsize) vehicle consistent with business needs and travel circumstances.  Yale will reimburse for the rental fee and cost of gasoline if original, itemized receipts are submitted.
The University's automobile insurance coverage does not cover any outside consultants, independent contractors, vendors, visiting speakers or anyone else who is not a student, post-doctoral fellow or an employee of the University.  These individuals or the companies that they represent must provide $1,000,000 of automobile liability and physical damage insurance to protect against accidents that occur with the rental car while performing University business.  This insurance can be provided via their own automobile insurance policy or by the companies that they represent or by purchasing the insurance from the rental car agency.
LOCAL GROUND TRANSPORTATION:
Taxi service is available through these local vendors.  Please call at least 20 minutes in advance.
Metro Taxi: 203-777-7777
Yellow Cab/Taxi of New Haven: 203-777-7770
If you have an UBER account, that service is also available in New Haven.
TRAVEL ASSISTANCE:
For questions and assistance in determining the best options as you plan your trip to Yale, contact ISPS Event Coordinator Pam Greene by email or by office phone 203-432-3052.