Now and Then: The History of Our Building
The building that now houses the Institution for Social and Policy Studies at 77 Prospect Street was built in 1884 in the "Richardsonian Romanesque" style, named after the architect Henry Hobson Richardson. The style was popular as revival architecture at the time and made an effort to incorporate 11th and 12th century southern French, Spanish and Italian Romanesque characteristics.
77 Prospect was built by the architectural firm of McKim, Mead, and White. The firm is well known for many famous buildings, including their work on the East and West Wings of the White House, the Boston Public Library, and the former Penn Station. 77 Prospect was erected within months of funding from the Phelps Trust Association for what was then a brand new Yale senior society, "Wolf's Head."
Wolf's Head made it their home from 1884 until 1924 when the building was sold to the University and Wolf's Head moved to new quarters on York Street. After 1924, 77 Prospect was rented out and used by the senior society Chi Psi, the Book and Bond Society, and also by the School of Music and Glee Club for practice rooms. In the early 1960s, it started to be used for faculty offices, staff and classrooms.
In 1968, John Perry Miller, who was then Dean of the Graduate School, launched ISPS as a place to foster cross-disciplinary collaboration in the social sciences. For many years, ISPS was housed at 38 Hillhouse, which today houses the Admissions Office.  In the summer of 1994, ISPS moved all its offices into 77 Prospect and the adjacent building at 89 Trumbull. In 2006 under the fifth director of ISPS, Don Green, a major renovation was completed that linked 77 Prospect Street to the other ISPS buildings, 89 Trumbull Street and the newly acquired 87 Trumbull.
These three buildings, connected by an atrium, now comprise the full ISPS home and provide office space for resident faculty fellows, graduate students and post-docs, staff, and a brand new behavioral lab. In addition, 77 Prospect has several classrooms and ISPS holds an array of events throughout the year, mostly geared toward American Politics and Policy.
Remnants of Wolf's Head "Old Hall" can still be seen in the ISPS library, where the attic rafters lead out to a false balcony. This is often referred to as the Romeo and Juliet balcony, the sight of which inevitably leads visitors to question, "What part did this play in the induction ceremony?" If only walls could talk.
On occasion the current occupants of 77 Prospect are reminded of the building's gothic past, when visited by bats in the attic and snakes in the basement.
Delegates of Wolf's Head still give historical tours of our building every spring to its new members. The building's fascinating architectural and Yale history has resulted in it being designated a New Haven Landmark.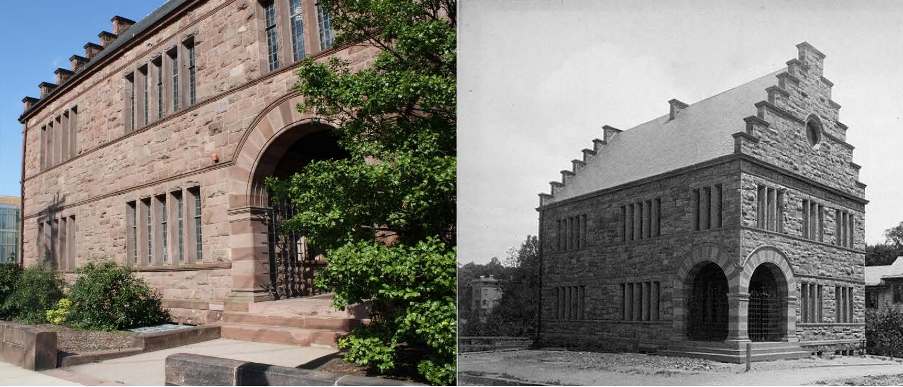 77 Prospect today  and the "Old Hall" at the turn of the last century

Director's office today and the Dining Room in 1924 (photo: courtesty of Wolf's Head)

ISPS Library today and a room in the "Old Hall" in 1924 (photo: courtesy of Wolf's Head)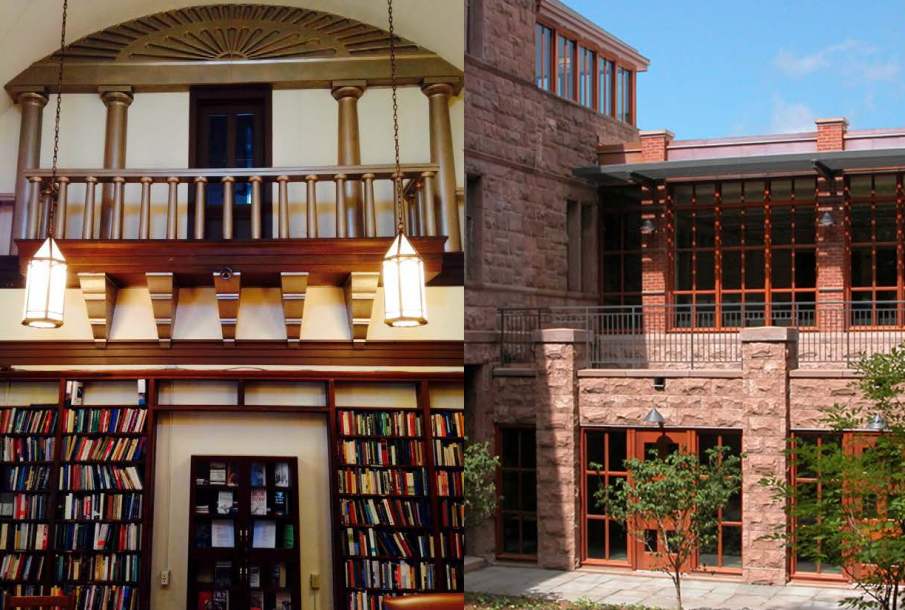 "Romeo and Juliet" balcony in ISPS Library and the new atrium built in 2006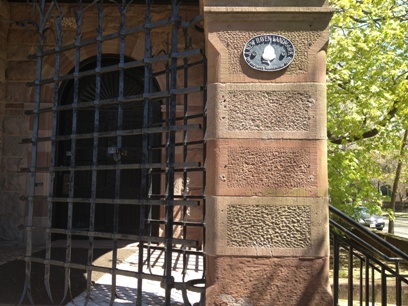 New Haven Preservation Trust Landmark