2022 WWN Recognition Award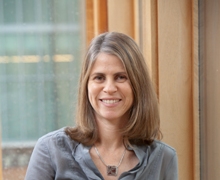 Congratulations to Limor Peer who was honored by the Yale Working Women's Network as a Trailblazer, an award given annually to a woman who utilizes opportunities to customize a new career path at Yale.
Limor is the Associate Director for Research and Strategic Initiatives at ISPS and started working here ten years ago. She has been instrumental in launching the ISPS Data Archive, which enhances the transparency of social science  experiments for reproducibility.
In 2017,  she co-founded the CURE (Curation for Reproducibility) Consortium of social science data archives at Yale, Cornell, and the University of North Carolina.
Limor is also involved in Yale's campus-wide efforts relating to research data management, sharing, and preservation, and has spearheaded policy development on these issues. She served as a Research and Data Specialist at the Office of the Provost from 2016-2018, and she is an Affiliated Fellow at the Information Society Project at the Yale Law School.