Yale Center for the Study of Inequality Explores Crime and Punishment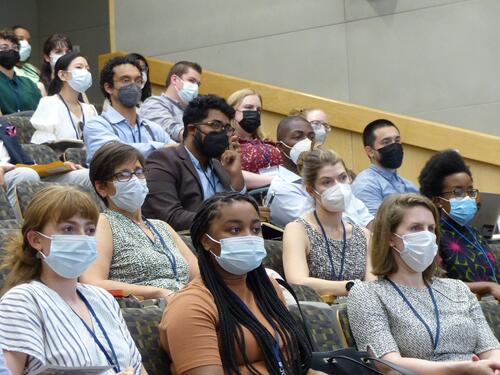 Since the passage of a federal law in 1984, victims of crime can apply to receive compensation for expenses such as medical bills or lost wages from a fund consisting of fines paid by individuals convicted of federal crimes.
The assessed penalties through the Victims of Crime Act (VOCA) disproportionately affect people of color. And victims of color are less likely to receive benefits from the program.
"There is racial inequality at every step," said Jeremy Levine, assistant professor of organizational studies and sociology at The University of Michigan.
Levine discussed the role of victims' policy in shaping the carceral state at a conference hosted Thursday and Friday by the Yale Center for the Study of Inequality (CSI), co-directed by Allison Harris and Dara Strolovitch. Titled "Justice and Injustice: Political Science Perspectives on Crime and Punishment," the conference kicked off the academic year for CSI, a center within The Institution for Social and Policy Studies (ISPS).
For more than 50 years, ISPS has led the way in advancing knowledge about basic questions in the social sciences to shape public policy and inform democratic deliberation.
"I think how we approach the practice of crime and punishment is critically important," said Allison Harris, a resident faculty fellow with ISPS, and assistant professor of political science. "We need to understand it from a policy perspective, answer questions through rigorous research, and share our findings with public and private partners who can make a difference."
The conference included poster presentations as well as panels on research design with questions and comments from participants and the audience to discuss works in progress.
Michael Mueller-Smith, an assistant professor of economics at the University of Michigan, described the Criminal Justice Administrative Records System (CJARS), a project he directs to remove barriers to analyzing crime with a nationally integrated database that can follow individuals through the criminal justice system.
Gwen Prowse, assistant professor of political science and Africana studies at Tulane University, presented her work on the rise and fall of police leagues led by Black officers in opposing departmental racism.
Other speakers included: Anna Gunderson of Louisiana State University on police department social media posts during the 2020 mass social justice protests, M. Brielle Harbin of the U.S. Naval Academy on race and drug program allocations, Kelebogile Zvobgo of William & Mary on gender violence and public attitudes toward punishment, Sarah Bruch of The University of Delaware on marginalization and mobilization, Arvind Krishnamurthy of Duke University on the promise of democratizing policing, Megan Dias of the University of Texas at Austin on why cities promote naturalization, Jacob Harris of Cornell University on prisons and political engagement in rural America, Klara Fredriksson and Marcel Roman of the University of Texas at Austin on how protests and public scrutiny following the death of George Floyd affected police behavior in Seattle, Andrew McCall of The University of Chicago on associations of local bureaucrats and the effects of police professionalization, and Sidak Yntiso of The University of Rochester on political geography and criminal sentencing in Texas.
Poster presenters were Corey Grange of The Brennan Center for Justice and a mixture of PhD candidates, graduate students, and postdoctoral fellows from around the country, including Marty Davidson, Matthew Denney, Jasmine English, Emerald Fikejs, Jennifer Gaudette, Alauna Safarpour, Amna Salam, Romelia Solano,Yu-Hsien Sung, and Dvir Yogev.
Harris organized the conference with Laurel Eckhouse, a quantitative criminal justice researcher at Code for America; Hannah Walker, assistant professor of government at the University of Texas at Austin; and Ariel White, the Silverman Family Career Development Associate Professor of Political Science at Massachusetts Institute of Technology.
Harris anticipates a busy year ahead as she and Strolovitch seek to bring together scholars and organizations focused on justice and equality as part of CSI's mission to understand the implications of economic, racial, gender, and other forms of inequality for American politics and public policy. 
"We want to create a space for students and faculty interested in inequality to find support for their work," Harris said. "Build a community for shared substantive interests that can have a practical impact in people's lives."