Exploring the Ethics of Artificial Intelligence
Has the age of artificial intelligence created the need for new human rights? Can AI-based tools be developed to facilitate more authentically participatory and deliberative forms of democracy? Should there be a right to decisions by humans in certain domains?
Hélène Landemore, professor of political science and faculty fellow with Yale's Institution for Social and Policy Studies (ISPS), will seek to answer these and other questions in partnership with John Tasioulas, director of the Institute for Ethics of AI at Oxford University, thanks to a shared award from Schmidt Futures' AI-2050 Program.
This three-year project will center on the distinctive value and capabilities of human beings and draw on methods of inquiry in the humanities. The development of a humanistic ethic will hopefully serve as a counterweight to the dominance of data-driven and quantitative conceptions of ethics in the AI field.
Landemore is a leader of Democratic Innovations, a new ISPS program designed to identify and test new ideas for improving the quality of democratic representation and governance.
"I believe ethics must be broadened so as to encompass collective, political questions," Landemore said. "AI can only be ethical if it is also governed democratically. And in turn AI has the potential to augment and scale our democracies to make them both more inclusive, smarter, and more just."
Landemore said she felt honored and excited to collaborate with Professor Tasioulas, who is the recipient of the Schmidt Futures AI-2050 Senior Fellowship.
"John convinced me of the urgency for humanists to define and defend a vision for an ethical AI," she said. "He has been the driving force behind this project, and I look forward to contributing my expertise in democratic theory and democratic innovations to this joint endeavor."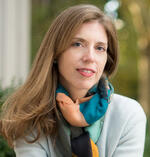 Tasioulas and Landemore are experts, respectively, in the theory of human rights and democracy. A key part of their research will involve engaging with the ways in which developments of AI relate to these two core values. The researchers aim to improve societal understanding of how the emergence of AI-driven technology can be integrated within a culture of democracy and human rights, making AI a servant rather than a threat to human dignity and well-being. 
"It is a great honor to receive this award," Tasioulas said, noting that it will enable sustained attention to questions about AI ethics and bring outstanding younger scholars into this exciting new field. "Developments in AI technology raise urgent and profound ethical questions about what it is to respect and advance human dignity in an era in which many complex human tasks are increasingly capable of being performed by machines."
Tasioulas said he was especially delighted to work with Landemore, whose work has focused so far on democratic theory, political epistemology, the philosophy of social sciences, constitutional processes and theories, and workplace democracy. Last year, French President Emmanuel Macron appointed her to the governance committee overseeing a citizens' convention reconsidering France's laws on assisted suicide and euthanasia.
"Hélène's advocacy of more radically participatory forms of democracy attuned to contemporary technological realities is truly inspirational," he said.
Schmidt Futures is a philanthropic initiative founded by Eric and Wendy Schmidt, supporting exceptional people working on key opportunities and solutions to hard problems that are critical to ensure society benefits from AI.