Limor Peer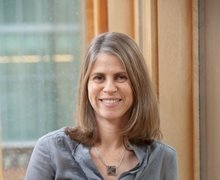 Title
Associate Director for Research
Yale University
Office Location: 77 Prospect Street, Room D231
Phone: 203-432-0054
Email: limor.peer@yale.edu
Limor Peer, Ph.D., is Associate Director for Research at the Institution for Social and Policy Studies (ISPS) at Yale University. She oversees research infrastructure and process at ISPS, including the Field Experiment Initiative, which encourages field experimentation and interdisciplinary collaboration in the social sciences at Yale. In this capacity, she has led the creation of a specialized research data repository (the ISPS Data Archive). At ISPS, Peer also heads the website team, and is responsible for research-related content on the site. At Yale, she is currently involved in campus-wide efforts relating to research data sharing and preservation, serving as a Research and Data Specialist at the Office of the Provost.
Prior to joining ISPS, Peer was Research Director at Northwestern University's Media Management Center and Readership Institute, which focuses on applied research primarily in the areas of media audience, content, and management strategy. At Northwestern University, she was also Associate Professor (clinical) at the Medill School of Journalism and held a courtesy appointment in the Department of Communication Studies. Her research interests include the media's role in democracy and in the public opinion process. She has taught courses on communication theory, public opinion, media and society, the future of the media, and statistics for journalists.
Peer received her Ph.D. and M.A. in Communication Studies from Northwestern University and a B.A.  in Political Science from Tel-Aviv University.
____
Selected materials relating to the ISPS Data Archive:
Yale School of Public Health, 2018: "Reproducible Research Practices" (slides, PDF)
GESIS Leibniz Institute for the Social Sciences, 2018: "Making social science more reproducible (starting with data curation and code review)" (Slides, PDF)
National Digital Stewardship Alliance, 2017: "Curating for Reproducibility" (coauthored with Thu-Mai Christian and Florio Arguillas) (Link to slides)
Research Data Alliance, 2017: "The Curating for Reproducibility (CURE) Consortium" (Poster, PDF)
International Association for Social Science Information Services & Technology, 2015: "New Curation Software: Step-by-Step Preparation of Social Science Data and Code for Publication and Preservation" (coauthored with Stephanie Wykstra) (Slides, PDF)
ISPS blog, 2014: "Why 'Intelligent Openness' is Especially Important When Content is Disaggregated" (Link)
Yale Technology Summit, 2014: "Developing Software to Prepare Social Science Research Data and Code for Sharing and Preservation" (Slides, PDF)
Open Repositories, 2014: "An Open Source, DDI-based Curation System for Social Science" (Poster, PDF)
ISPS blog, 2014: "Mind the Gap: Data They Share May Not Be Data You Can Use" (Link)
International Digital Curation Conference, 2014: "Committing to Data Quality Review" (coauthored with Ann green and Libbie Stephenson) (PowerPoint slides)
International Journal of Digital Curation, 2014: "Committing to Data Quality Review" (coauthored with Ann Green and Libbie Stephenson) (Link)
ISPS blog, 2013: "The Role of Data Repositories in Reproducible Research" (Link)
Yale Day of Data, 2013: "The Repository as Data (Re) User: Hand Curating for Replication" (Link)
International Journal of Digital Curation, 2012: "Building an Open Data Repository for a Specialized Research Community: Process, Challenges and Lessons" (coauthored with Ann Green) (Link)