Policy and Power: A Former ISPS Scholar Explores Government from the Inside Out
Authored By
Rick Harrison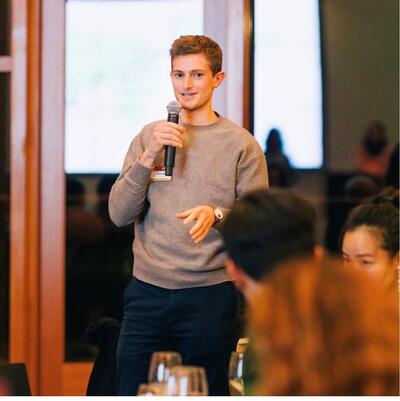 As a law clerk with the U.S. Court of Appeals for the Fourth Circuit, Zach Young assists a leading member of the federal judiciary, Judge J. Harvie Wilkinson III, Class of '67,  in reviewing intricate issues of law and fact.
Young, Class of '17, gained an appreciation for approaching questions of research, analysis, and policy through an objective lens while an undergraduate fellow with the Institution for Social and Policy Studies (ISPS).
"ISPS emphasized the importance of thinking rigorously about policy as something that can be empirically tested, that should be subjected to scientific rigor," Young said. "I appreciate that it wasn't ideology that was being conveyed, but a methodological approach to addressing important questions of law and government."
During the 2015-16 school year, Young worked with Alan Gerber, currently Sterling Professor of Political Science and ISPS's director, as an inaugural Dahl scholar. The Dahl Scholars program provides fellowship support for Yale College students to engage in policy-driven social science research under the guidance of an ISPS faculty mentor.
With Gerber, Young researched the concept of federalism and its effect on the transparency of the political process. Federalism divides power across the central United States government and state and local governments. Young found that federalism can obscure accountability for public officials but also limit jurisdictional mismatches in the effects of policy.
"One of the downsides of a federal system is that voters don't always know whom to credit or to blame," Young said. "For example, maybe you are upset with the quality of education. Is it because of federal mandates? Curricula on the state level? Or perhaps something more local?"
Young cultivated an interest in the topic while working at New Haven City Hall and the U.S. Senate Finance Committee, and he credits ISPS for helping to focus his thinking about what might be obscured or aided by having different levels of government.
"It was a privilege to work with someone as smart, as thoughtful, and frankly as humorous as Professor Gerber," Young said. "He gave me superb feedback and was a delight to spend time with."
After graduating Yale with a B.A. in ethics, politics, and economics, Young worked as a correspondent for Politico Europe in Paris and then attended Stanford Law School on a full scholarship. With Gerber's encouragement, he also earned a master's degree in policy in France.
"Zach is very much an independent thinker and intellectually courageous," Gerber said. "Someone who loves exploring ideas and just the kind of person we hope to engage through our undergraduate fellowship programs. I think that he's somebody with limitless potential."
Currently, Young is weighing options for when his clerkship ends. While he is not sure what precise position he might seek, he feels hopeful that he will ultimately find a public policy-related project through which he can make a significant and lasting impact.
And he knows he will carry the lessons from ISPS wherever he goes.
"While a Dahl scholar, I found it immensely rewarding to talk to different scholars in the building — maybe just getting coffee and coming across someone to see what methods they were using or what ideas they were testing," Young said. "Those conversations were very special and formative for me. I learned a lot about the world through those interactions."