Team directory: O
Team directory: O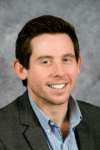 Rourke O'Brien is an Assistant Professor of Sociology. His research focuses on the causes and consequences of social and economic inequalities with substantive interests in household and public finance, economic mobility and population health.
Sandra Okonofua is a PhD student in Sociology at Yale University. Her research interests sit at the intersection of social stratification, social policy, race, class, gender and education. Specifically, she is interested in exploring the connections between local government laws, policies and educational inequality across race and class. Before coming to Yale, Sandra worked as a school counseling intern in Massachusetts, a high school science teacher in Philadelphia and as a ghostwriter for industry leaders. Sandra is a proud daughter of Nigerian immigrants and a DMV native.
Gabby Ortega is a junior in Jonathan Edwards from Houston, Texas. She is studying political science and is interested in criminal justice, including policing practices, mass incarceration, and their effects on individuals and communities at large. On campus, she is involved in the Academic Strategies Program, Yale Legal Aid Association, and the Yale cheerleading team.